Upgrading from the Trial Version of Designbox
If you are using the 30-day trial of Designbox, you can upgrade to the fully licensed version just by entering a new Serial Number into the Designbox Upgrade Dialog. This allows you a simple upgrade path to the full version without needing to re-install any software. The upgrade dialog is accessible from the Designbox Help menu, which is beneath the Visual Studio Help Menu: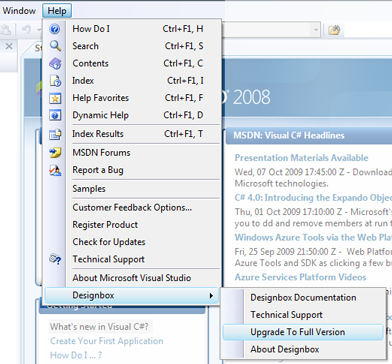 Designbox Upgrade Dialog
The upgrade dialog contains a link that will allow you to purchase Designbox licenses online. After your purchase, simply enter your new Serial Number into the Serial Number textbox. Then press the 'Next' button to activate your license.