Creating, Loading, and Importing Design Palettes
The Designbox Window shows you all the Design Palettes you have loaded into Designbox. Each Design Palette can be expanded to display all the Designs in the palette. The toolbar buttons in the Designbox Window let you create new palettes, load existing palettes from your repository, and import shared palettes into your repository. Additionally, you can unload a palette by clicking the right mouse button on a selected palette in the window and select 'Remove' from the context menu.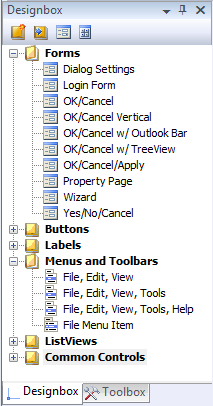 | | | |
| --- | --- | --- |
| | New Palette Button | Opens the Add New Palette Dialog for creating a new palette in the root folder of your Design Repository |
| | Load Palette Button | Opens the Load Existing Palette Dialog for loading or importing an existing palette into Designbox |
Add New Palette Dialog
You use this dialog to supply information about your new Design Palette. The upper list view shows you all the palettes that are currently in the root folder of your Design Repository. You just enter your new palette title and hit the Add button to create your new palette.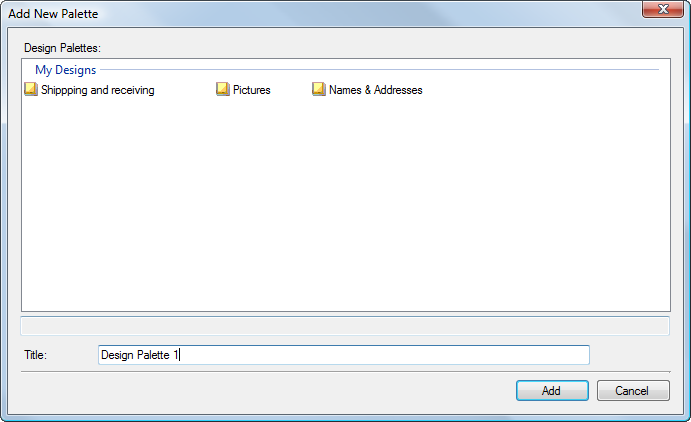 Load Existing Palette Dialog
The Load Existing Palette Dialog lets you load palettes into Designbox and import palettes shared by others into your design repository. You use the top list view to select the palette that you would like to load. These palettes are grouped by folder name. If you click on the Import button, you can select a palette file from anywhere on your computer that will be imported into your repository. After the palette is imported, you can select and load it.
You can also select a palette and hit the delete key to permanently delete the palette file from your repository and file system.